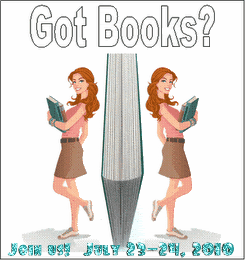 I have had a blast doing Got Books? Event, watching my followers on here and on Twitter go. Reading what books you all are excited for, and entering into the hundreds of other contest !!! This has been a great experience and I hope to do it again next year.
Now for the winners!!!!!!!!
(whom I will also @ on twitter)
In 3rd place winning swag of Faerie Rebels and Wayfarer by R.J. Anderson is...
STELLA!!!!!!!!!!!
In Second place winning Kin by Holly Black is...
CHRISTINA BEAN!!!!
and FIRST place winning a signed copy of Faerie Rebels by R.J. Anderson and swag is... Drum roll please....
CHRISTA!!!!!!!!!!!!!
CONGRATULATIONS !!! I will be emailing you shortly for your adresses so I can ship your prizes out to you ASAP!! and for everyone else THANK YOU for joining my blog! Stay tuned for reviews, and more give aways coming soon!!